Changed: Berserk Deluxe (next update coming soon)
--------------[Español]--------------
Hola de nuevo!
En peticion de Vlenite y despues de pensarlo decidi añadir una sección para que la comunidad pueda compartir sus personajes fan como enemigos adicionales para el juego, pero tenga en cuenta lo siguiente:
1. Es probable que no pueda elaborar a todos los enemigos para añadir al juego, pero no quita el hecho de que tu personaje termine en una sección exclusiva junto otros dibujos mas en el área de "Galería".
2. El personaje el cual este dentro del juego puede estar probablemente en alguna área del "modo historia" del juego principal, pero es mas probable que este presente en el modo Oleada como un modo especial en el que se llame "Personajes de la comunidad".
3. Al descargar la plantilla eres libre de manipularla a tu gusto, puedes crear tu propia base a partir de la referencia el cual esta mas abajo de esta publicación.
4. Al desarrollar tu personaje puede tener ciertos cambios dentro del juego tales como: velocidad, daño, tiempo de respuesta para ataque etc.
5. Tu personaje puede tener como máximo 3 ataques para que no sea un poco injusto al momento de que ataque al jugador.
6. Es probable que tu personaje aun así tenga un estilo de Agarre para el jugador pueda que no lo tenga en el juego, esto para mantener balanceada la dificultad en cuanto Agarres.
7. Al momento de desarrollar tu personaje asegurate de que (dado el caso) sea en cierta parte de tu propiedad. Esto para prevenir problemas con el autor original de que su personaje esta presente en el juego sin su autorización.
8. La fecha limite para enviar será hasta que anuncie la fecha de lanzamiento para la nueva actualización, así que puedes hacerlo con calma ya que no sabré cuánto durará el desarrollo, en todo caso más adelante cuando esté completamente seguro de la fecha definitiva, daré un anuncio por este sitio.
9. Manda tu personaje por este medio, ya que no se que medio mas pueda usar para que la gente mande sus personajes, de momento será por esta misma publicación
10. Gracias por su apoyo ;)
--------------[English]--------------
Hello again!
On Vlenite request and after thinking about it, I decided to add a section for the community to share their fan characters as additional enemies for the game, but keep in mind the following:
1. I will probably won't be able to make all the enemies for the game, but it doesn't take away from the fact that your character will end up in an exclusive section along with other more drawings in the "Gallery" area.
2. The character which is in-game can probably be in some area of the "story mode" of the main game, but is more likely to be present in the Wave mode as a special mode in which it is called "Community Characters".
3. When downloading the template you are free to manipulate it to your liking, you can create your own base from the reference which is below this post.
4. Your character may can have certain in-game changes such as: speed, damage, attack response time, etc.
5. Your character can have a maximum of 3 attacks so that it is not unfair when attacking the player.
6. If your character have a Grab style for the player, him/her may not have it in the game, this to keep the difficulty balanced in terms of Grabs.
7. When developing your character make sure that (if the case) it is in certain part from your own property. This is to prevent problems with the original author that his character is present in the game without his authorization.
8. The deadline for submission will be until I announce the release date for the new update, so you can do it calmly as I will not know how long the development will take, in any case later when I am completely sure of the final date, I will make an announcement on this site.
9. Send your character through this way, since I don't know what other way I can use for people to send their characters, for the moment it will be through this same publication.
10. Thanks for your support ;)
--------------------------[Aqui la referencia | here the reference]-----------------------------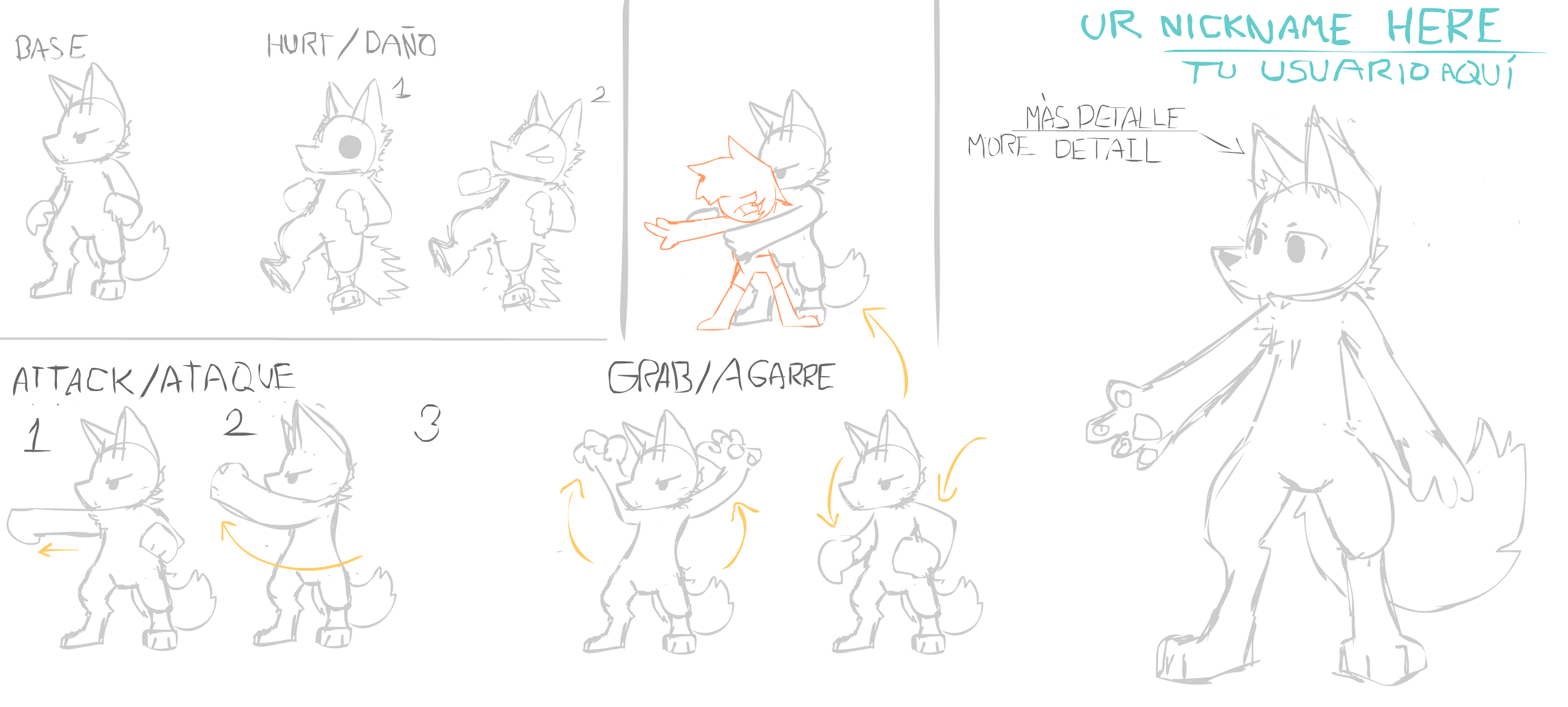 --->[Nos vemos!]<---
--->[See you soon!]<---
Get Changed: Berserk Deluxe (next update coming soon)